Training Description



Course overview

These trainings consist of sessions of eLearning materials with video tutorials, including questions so that you can immediately check what you have learned. It allows system administrators, ERP installation specialists, ERP administrators, IT specialists and web store administrators to learn and understand the entire process of the Sana store installation as well as its capabilities how to manage it.

Each session of the installation training is focused on a particular area of the Sana store installation while the shop admin training walks you through all the aspects of the Sana store management, for example catalog and content management, checkout flow and its capabilities, and designed to teach web store administrator to manage a Sana store step-by-step just from the beginning to its end.

The SDK training provides an overview of the Sana Commerce functionality, hosting and configuration options, technical overview of the framework architecture and explanation of how Sana communicates with ERP. You will learn how to apply company branding and customize your web store on a real-life examples.

At the end of each session you will be asked to answer the questions to check your understanding of the training material and practice what you have learned.

After each incorrectly answered question or at the end of the session you can check study advices. These are recommendations, based on the results of your answers, which give you advices to proceed to some information that will help you to succeed in the topic and fully complete the course.

The progress is counted per session (learning objective). The overall course progress is the sum of the results of each session.

The mission of these trainings is to provide Sana customers and partners with attractive and valuable information and training opportunities to help them learn and understand all aspects of Sana web store installation and management and get the most out of their Sana implementation.

Format

Online video trainings

Duration:

approximately 10 - 12 hours per training

Target audience

Sana Commerce has training courses for every role. The target audience of these trainings is the system administrators, ERP (NAV/AX) installation specialists, ERP (NAV/AX) administrators, IT specialists, Sana web store administrators, developers.

Product marketing managers, support consultants, service managers, sales-, project- and business consultants can also get benefit from these online trainings.




Installation training prerequisites

Basic knowledge in system administration: Windows Server, Active Directory, Internet Information Services (IIS) Manager, Microsoft SQL Server, network configuration and firewall settings, etc.

Knowledge of Microsoft Dynamics ERP (NAV/AX): its architecture, components, requirements to the hosting environment and how to deploy it.

Microsoft Dynamics ERP (NAV/AX) installer.

Microsoft Dynamics ERP (NAV/AX) server environment.

Web and database server environment.

Sana Commerce release package. It can be downloaded from the Sana Community web site.

Shop admin training prerequisites

Understanding of e-Commerce.

Be familiar with checkout flow, price calculations, shipping and payment methods.

Knowledge of Microsoft Dynamics ERP (NAV/AX) administration: catalog-, customers-, sales orders management, etc.

Up and running environments: Web and database server environment with installed Sana Commerce BackOffice and web store on it and Microsoft Dynamics ERP (NAV/AX) environment with installed Sana Commerce add-on on it.
Recommendations

Each session contains video tutorials. If a video tutorial uses the YouTube player it may happen that in some web browsers the 'Full screen' button

is not available. In this case click on the video title at the top of YouTube player or on the YouTube icon at the bottom of YouTube player to open the video directly on YouTube to be able to switch to the full screen mode.
If you are learning how to install Sana and you do not have your own server environment to practice what you have learned or you do not want to use it for learning purposes you can download the Sana demo VPC to play around. The demo VPC contains a fully functional Sana on it, but you can also use it to try to install everything yourself. The information where you can download the Sana demo VPC is available on the Sana Community. Only the Sana partners have access to the Sana Community web site.

If you are a shop administrator and you are learning how to manage the Sana web store, we also have the playground for "students" of Sana Commerce that want a first impression of Sana and master every aspect of Sana web store administration. You can also use your own Sana Commerce environment to play around during the training if you have it.
Watch our video tutorials, listen to our instructor, answer the questions and play around on your own environment or use one of Sana resources. Don't wait till the end of the course; just try to practice what you have learned from a video tutorial together with our instructor.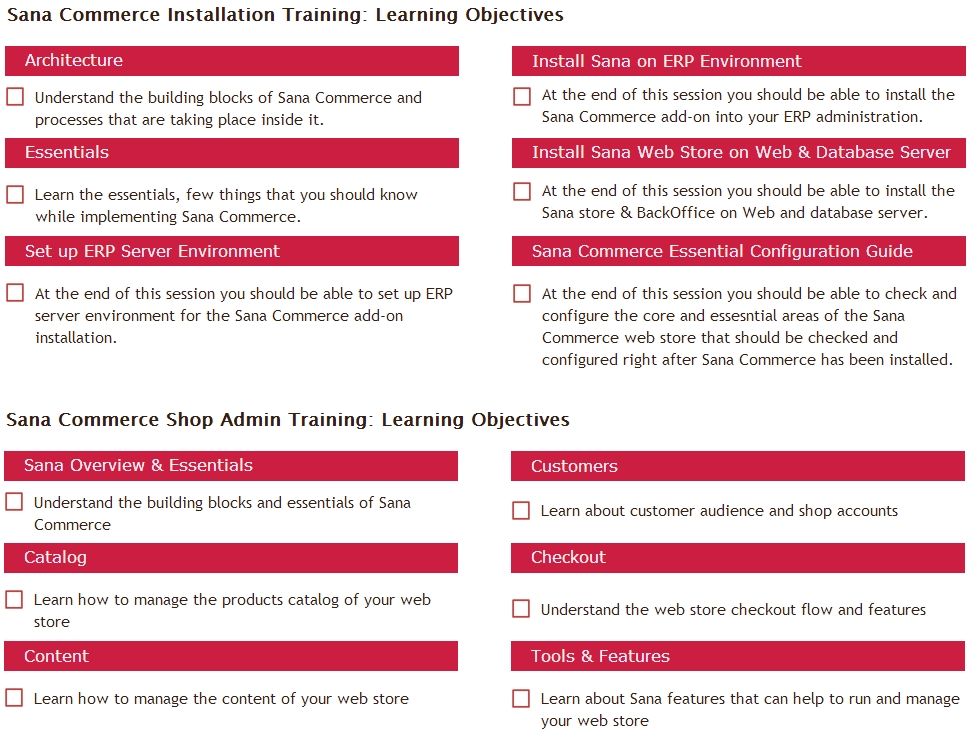 Last modified: Monday, 7 September 2015, 12:45 PM